Earlier in the week my partner and I were talking about something I do not even remember at this point in time, but in the midst of the conversation I was asked:
"What is ghosting?"
At first, I thought it was a joke, but it turned out to be a serious question, and so an explanation was necessary.
"Ghosting is when one person virtually disappears. They stop texting, calling, etc. Just out of the blue. With no explanation. No "Good-bye forever". It is like breaking up without having "the talk"."
"Ooooh, I get it. So if they vanish, then they are a ghost. "
Even though I do not remember the exact words we both used, that was the gist of it. As you can tell – Tinder lingo is not something we speak fluently, but I was proud of myself for knowing what the phrase "ghosting someone" means.
Funnily enough, just a couple of days later, I saw the word "ghosting" in a news headline. However, you will be surprised that this time around, the word was not used to describe a dating incident. It was used to describe someone skipping out on work. Disappearing. Not saying "Good-bye forever".
At the place where I am employed, I have heard potential candidates admit to interviewing with too many places to remember which position involved what. Even though hedging your bets and applying wherever you can is a common practice, I believed it to be a taboo topic of sorts. It seems like the applicants get bolder. It can potentially be a negotiation technique (Can you pay me more, because otherwise I might have to take that other job?), but not in the earliest of stages.
The job market looks pretty interesting – with lowest unemployment rate in almost 50 years, there are more job openings than actual interested people to fill them. See, this is why we cannot have nice things – we have so many opportunities, and instead of taking them gracefully, we decide to act like a bunch of kids and GHOST employers whenever we feel like it. Absolutely irresponsible and cowardly.
I believe I mentioned this in one of my previous posts – there are companies in Japan that will quit people's jobs for them. In the Japanese culture, working for the same company for most/ all of your life is expected. If you do want to leave, you are required to give a lengthy notice (which allows the employer to figure out a way to make your life more miserable), and buy everyone gifts before you leave the company. In the US, quitting is not as hard. You simply tell your boss you will not be working there in two weeks. That is usually the universal length of the notice. Of course, you can just quit on the spot, but that might not be a good idea if you will need references for your future jobs.
Apparently, there has been an increased number of employees ghosting their employers. In that sense, a worker just stops showing up for work one day, cannot be contacted, and never returns. For all we know, maybe there is a serial killer on the loose, and these poor people are dead, and falsely accused of ghosting.
Because there are so many places that are hiring, people do not really care about how they end things with their previous employer. To me, it sounds like yet another step towards the destruction of our culture. Do people not have any decency anymore? "Applicants blow off interviews. New hires turn into no-shows. Workers leave one evening and never return."
In China, where ghosting has been popular for much longer, an executive from one of the talent acquisition firm suggests offering two positions just in case one person ghosts. Is that the new standard? Imagine being hired, going through all the happiness, only to find out that the other person did NOT ghost, so you are not needed. Imagine being the backup. Or are companies going to hire doubles and pay both? I think we all know the answer to this question.
Doing research for this post, I discovered that about half of men and women have experience with ghosting, and nearly as much have done the ghosting. (See charts below)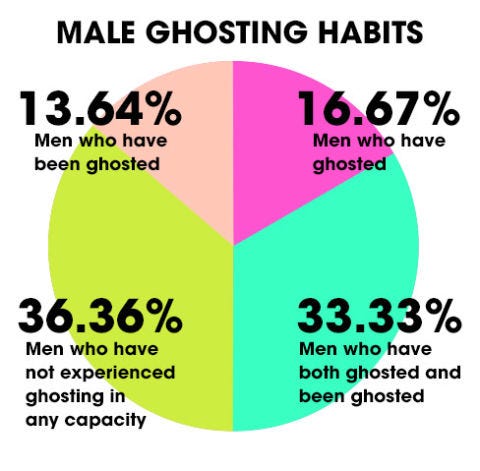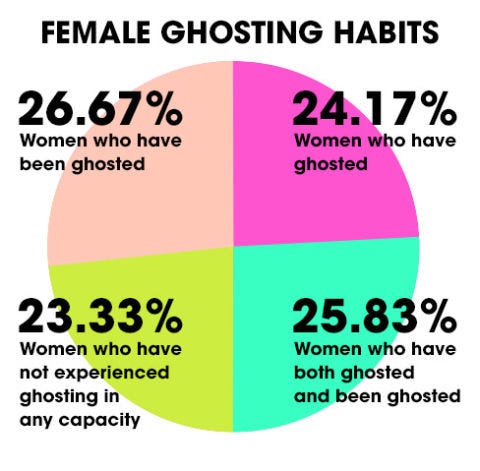 Why do people ghost when it comes to dating? It has a lot to do with their inability to handle their emotions, and their disregard for others. Since a lot of relationships are virtual nowadays for a long time before (if) they turn into an actual relationship, it is easier for people to not get attached, and therefore not have any qualms about ghosting.
Would you believe that Tylenol might ease your emotional pain when you get ghosted? Social rejection activates the same brain pathways as physical pain.
***
Do you have experience with ghosting?
Have you ghosted someone?
Have you been ghosted?
Would you ever leave your job without saying "Good-bye"?
If your employee ghosted, what would you do?
Do you think people who ghost should be put on some blacklist?
How do you feel about ghosting? (In the dating and working world)
Stay golden,
***
Did you enjoy reading this post? Hit LIKE.
Have some thoughts on the topic? Share in the COMMENTS.
Do you regularly enjoy my blog? Be sure to FOLLOW.
Are my posts getting lost in your busy Reader? Try SUBSCRIBING.