We have all heard about people in far away countries taking jewelry to the next level. Multiple piercings and/ or tattoos are something that WE, the Western world, are more or less used to. But the subject of today's post went beyond all that. He had his concha removed. What is that? In laymen terms – it is the inner part of the outer part of your ear.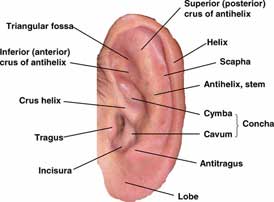 [Source]
No, it was not a medical necessity.
No, it was not an accident.
Yes, that man CHOSE to get this done for aesthetic purposes. (If you follow the first link, you will be able to see the results of this removal procedure.)
That man traveled all the way from Australia to Sweden to get his procedure done by a famous body modifier. The artist claims that his patient might feel confused as to which direction sounds are coming from in the beginning, but that he should go back to normal in a couple of weeks. It is said to help you hear the sounds behind you better. Is the Australian fed up with people talking behind his back? Now he will know if they are doing so, or not. [cue laughter]
Several years back, I heard of a trend that had many people tattoo their sclera (the white of your eye). The color black seemed to be the favorite. It had you look rather menacing. Not too long after, I heard of some complications. He had to have his eyeballs removed. That procedure is not by a medical specialist. Those who do dabble in such tattooing see it as something safe. In case of the man losing his eyes, the ink was injected too deep. I cannot find a link to that as I write this, but it is mentioned in the below link. Aside from that guy, there was also a woman, who had her boyfriend do her eyes purple. She has to take antibiotics, and go through surgery to remove the excess dye. Her vision will never be the same. Her tattooist put in too much ink at once, used too big of a needle and went too deep, and did not dilute the ink. Her BOYFRIEND. You would think that he would have been extra careful. It just goes to show how unpredictable these procedures can be.
Wikipedia has a pretty lengthy list of body modification examples. It includes, but is not limited to:
Tooth-knocking – the act of deliberately knocking one's teeth out, often to satisfy an aesthetic ideal.
Extraocular implant – the implantation of jewelry in the outer layer of the eye.
Pearling – also known as genital beading.
Is body modification a new trend? Piercing is a practice that has been known and documented in the Middle East 4,000 years ago. Tattoos have been documented over 3,000 years ago, but they are believed to be even 10, 000 years old. Surprisingly, pearling was common among the Yakuza members several hundred years ago.
The featured photo of this post illustrates lip stretching and comes from the Mursi tribe from Ethiopia. What does it stand for? The outstretched lip is a sign of adulthood and a reproductive potential. The bigger the plate, the wealthier they are. Or maybe it's the other way around – the wealthier they are, the bigger their "jewelry".
Women from the Apatani tribe in India had to outfit themselves with nose plugs to make themselves look less attractive. That way no outside man will consider them beautiful. (Is that a rape deterrent that should be adopted in the Western culture?)
The Kayans in Myanmar are famous for wearing brass coils on their necks, stretching them to be longer. Have you heard of giraffe women? The process of stretching their necks starts as early as at 5 years old. That set is said to weight 4.5 pounds.
Women from the Dani tribe in Indonesia cut off the tips of their fingers when their loved one dies.
In Mauritania, West Africa, there exists a practice called leblouh, which is the brutal act of force-feeding girls at a very early age in order to achieve proper obese proportions. To do so, the girls are led to a small hut called a fatting house, where a fattener plies them with an extreme amount of food and drink, sometimes in excess of 16,000 calories daily. If the girls refuse? They're beaten, or have a limb pinched between two sticks. All because the Mauritania people believe that being large in size is a sign of wealth and beauty, and thus, a woman will have a better chance of finding a husband.
If you are curious to see how far people have gone (photos included), please click HERE to see those who cut off their nose, or ears.
HERE is a link to a great article about various modifications throughout history.
I think we all like different things. I think that some tattoos can be tasteful and hold a lot of value for the ones who have them. However, like with anything else, humans seem to often take things to the extremes. Unfortunately, aside from the need for attention, I cannot figure out why anyone would want to do those things mentioned above.
Do you have any tattoos?
Do you believe that your body is a canvas/ piece of art and you are the artist?
How do you feel about body modification?
Why do you think people take such extreme measures to change the way they look?
Stay golden,
***
Did you enjoy reading this post? Hit LIKE.
Have some thoughts on the topic? Share in the COMMENTS.
Do you regularly enjoy my blog? Be sure to FOLLOW.
Are my posts getting lost in your busy Reader? Try SUBSCRIBING.