I have put off writing about this for a couple of weeks. I was not sure how it was going to be received. I have recently read a post about how we should blog mostly about positive things, and this topic did not seem to fit. However, it remained in the back of my head until the moment when I read a post saying how this blogger writes a first draft how they want to say it, and then re-write it with their audience in mind. As much as I approve of being considerate, reading those words reminded me how this blog is supposed to be largely unfiltered. Therefore, I write to you about morbid obesity.
It is my assumption that no matter where in the world you live, you know what Gilette is. It is a brand owned by Procter & Gamble, specializing in making safety razors and other shaving related products. Chances are you have used their product once or twice in your life. Just like other major brands, Gilette decided that in order to survive and remain relevant, they needed to ride the wave of social justice. Buyers no longer look at the product and its price. They also check to see whom the company donates to, where they have their production plants and, if they are environmentally friendly, etc.
Back in January, Gilette aired a commercial meant to tackle the topic of toxic masculinity. It definitely stirred a lot of discussions. Some people decided to start buying Gilette products more often, while others decided to abandon the company for good. If you have not seen it, but would like you, you can do so here. As a person who enjoys learning about advertising and analyzing commercials, I did not like this particular one, because it did not even feature a product. It was all about showing us "the way". The way that we are now and the way we should strive to be. Was the ad toxic itself? Maybe. Whether I agree with the content of the ad or not is not important. I am just showcasing a pattern of advertising trends that are less about the product and more about how we feel.
Even though advertising has become more complex (it is ever present and done unintentionally sometimes), it has also become speedier. Anything can go viral within seconds.
Three months after their ad regarding toxic masculinity, Gilette posted a photo of a model on a beach. Sounds innocent enough, right?
This is the photo that appeared: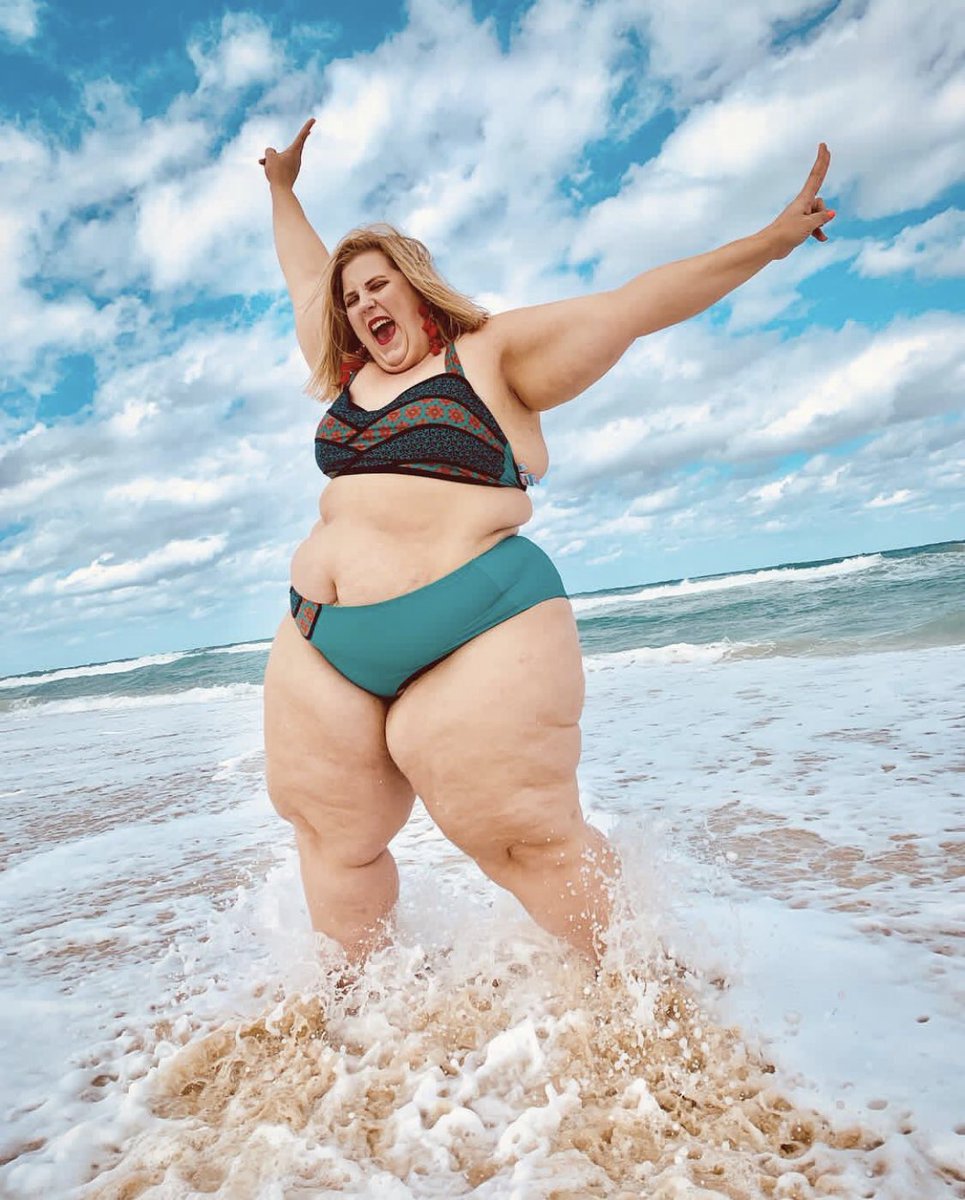 [Source]
The caption for the photo was "Go out there and slay the day".
The model is. Yes, she is considered a model. As I was saying – the model is known for posing in all sorts of places in skimpy clothing. She even had a photo-shoot in a bikini in the middle of Times Square.  On her Instagram, she complained about being sexualized by the men who were passing by. Let me ask you: "What do you think was her reasoning behind posing in a bikini on Times Square?"
Back to topic at hand – glorified morbid obesity.
I have bumped shoulders with a lot overweight people. Many of them morbidly obese. Being that way is not glamorous. It does not only affect the way you look, but also the way you feel and the way your body works. There are serious medical conditions associated with being overweight and obese. "Morbid obesity" is a medical term. it is used when a person weighs a hundred pounds more than they should. That is a lot of weight. Think about it.
In today's day and age when we are trying to accept and tolerate everything, people like the girl in the photo are glorified for being brave. For facing the world unapologetically.
After getting slammed with negative comments, Gilette responded: "Venus is committed to representing beautiful women of all shapes, sizes and skin types because ALL types of beautiful skin deserve to be shown. We love Anna because she lives out loud and loves her skin no matter how the 'rules' say she should display it."
But if we love people who are morbidly obese, why do we hate anorexic girls? Why do we condemn them? Why is it alright to say that someone has a disorder because their ribs are showing, but we are only able to say positive things about someone who is struggling with the opposite?
This is not to criticize being too thin, or too fat. This is to criticize extremes, most of which are NOT good. Most of which should be fought against. Most of which should not be glorified. Should not be encouraged.
You think you are doing the right thing by accepting someone else. You think they feel good about themselves because you do not condemn them. You feel like you will go to heaven, you did not cast a negative judgement. You think that you give hope to all the other people struggling with self-image. Maybe. All of that may be correct. But stop for a moment and think about young, impressionable minds. Will they not feel like this is something acceptable? Something that is not a problem, which really IS a problem?
What I have to agree with is the infectious confidence this woman is exuding. We should not hate ourselves for the way we look. We should not lock ourselves in a room so that no one lays eyes on us.
But we should also be reasonable. See your beauty, but do not be blinded by the lies. See the real you, assess it and if hazardous, try and change it.
How does that photo make you feel?
What do you think of brands that rely more and more on social causes rather than their products and services?
Has an ad ever deterred you from buying a specific company's product?
Stay golden,
***
Did you enjoy reading this post? Hit LIKE.
Have some thoughts on the topic? Share in the COMMENTS.
Do you regularly enjoy my blog? Be sure to FOLLOW.
Are my posts getting lost in your busy Reader? Try SUBSCRIBING.